Request An On Site Demo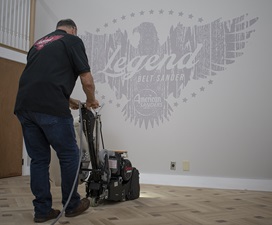 You never know for sure if one tool works better for you than another tool until you have a chance to put them to work. At American Sanders we believe in giving you the opportunity to see how our floor sanding machines perform in your own hands.
When it comes to putting down a finish on the floor you and your crew have spent many hours perfecting the surface, you want the finish to go down smooth and you want it to last. As with using the machines, hands-on experience with a wood floor coating is the best way to learn if it fulfills your requirements and meets your customers' needs.
American Sanders Regional Managers will come to your job site with machines and finish to give you the opportunity for hands-on experience in real-job conditions.
Just reach out by phone or email to request your on-site demo.

Phone: (800) 367-3550
Email: apec@pioneereclipse.com
Online: Click To Submit Online